Serving North Central Idaho
Releasing a flock of beautiful white birds will provide that perfect touch to make any event memorable. The white dove has been a symbol of purity, faithfulnesshope, and redemption throughout the ages. There is nothing more meaningful or moving than the sight of these beautiful birdsrising and circling to join with the flock. Once all are grouped they will fly home to the safety of their loft. To view a map of our service area ◊Please Click Here.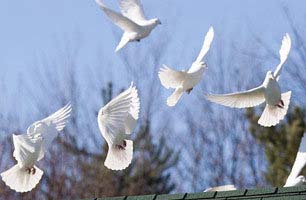 Weddings, Memorials, Life Celebrations, Baptisms, Birthdays... these are just a few of the special occasions where a dove release guarantees the memory of a lifetime.
For centuries doves have represented peace, love, hope, faith, prosperity, innocence, and more.
Only the finest quality, pure white, genetically proven birds are used for our release services, thereby guaranteeing the greatest possibility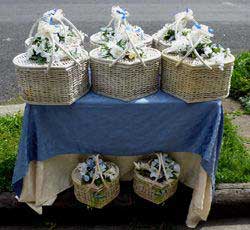 of a successful release. The birds enjoy a safe return to the comfort and security of their lofts.
Release Doves
Please do not purchase the smaller doves for release such as are sometimes available from pet stores. These birds have no training, no home to return to, and very poor survival skills. They will likely perish if released. The American Dove Association has great information on the types of doves and Pigeons: Dove Facts

Email Us: Linda@Idaho-Doves.com
208-935-2038 or 208-935-5199